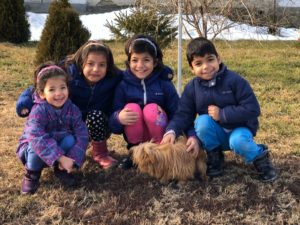 Almost two months have passed since our five young guests totally changed daily life on the Chedes Agape farm.
Nicu, Crina and especially Mihaela were definitely tested by the amount of work that fell on them between December and early January. It's taken a while, but slowly but surely they're settling into a good routine, and can finally, also now that they have the help of Dana (the babysitter), draw breath.
Following their progress at school, teaching them basic hygiene, entertaining them when they're at home, and getting them used to respecting the rules of family life isn't easy, but Mihaela's perseverance together with Nicu and Crina's help is bearing fruit.
It's only when the oldest go to school that she can have a few hours of relative quiet, although the youngest (Patricia) literally stays attached to Mihaela day and night. Now that she's regained all her energy it's not easy to manage her, and it's necessary to keep an eye on her all the time! Unfortunately, almost all of the children have more than a few dental problems (probably due to poor dental hygiene and poor diet). Treatment is urgent! We'll try to find both the funds and the means to take them all to the dentist, or to bring a dentist out to Romania to give us advice on what to do and eventually intervene if possible.
Apart from that, they're in good health, except for some colds. However, this winter isn't taking any prisoners, with temperatures still well below zero and heavy snowfall for days on end, which often causes travel disruption and inevitable school closures. However, inside the farmhouse it's cosy. Speaking of school, Luiza, Lorena and Denis are clearly having difficulties. The misery of their recent past has definitely limited their learning progress at school. We don't want to be too hard on them at the moment, and are thinking of sending them audio-visual materials, books and board games as soon as possible, both in Romanian and Italian. They are, however, very cute and very creative children. Watching them playing or drawing without a care in the world, it's hard to imagine how much violence they must have seen and/or suffered up until a few months ago.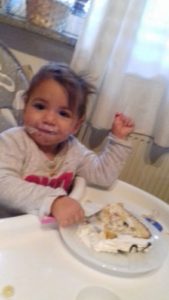 It's wonderful to see how much they love Bible stories and how committed they are to their daily devotions. We're going to give a Bible to the ones who can read as soon as possible. Although they're so young, the hope that faith in the Lord brings, and the love that Jesus had for children, is helping them to see their futures with a bright hope.
A few days ago Denis turned 8. It seemed almost a dream to have a cake all to himself with so many well wishes. Being able to celebrate with almost all of his siblings in a place where they're loved must have been so memorable for him.
We managed to get almost all of the necessary, sometimes asked for by child protection, items (clothes, accessories, furniture, etc.) for life on the farm. Once again, the generosity of our donors (including Italians) has helped to improve their lives so much. Of course home improvement works on the farm are the order of the day, like dividing the big room where the four oldest sleep into two so that they can sleep two to a room instead. Of course we had to use all the beds we had for the regular visitors to the farm, so we'll need to get more beds as soon as possible.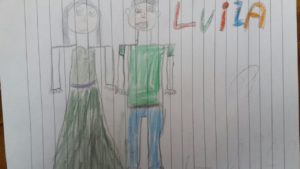 The one sour note of this story is the situation of Luigi, the 12-year-old brother who's unfortunately still living with his parents in Pădureni. We don't see him anymore when we visit Pădureni. But we know from the neighbours that he's doing OK. God is definitely watching over him and we're sure that He'll act, and protect him from any evil. We're ready in case we'll be allowed to welcome him to the farm along with his brother and sisters. It would be a dream for all of us, and especially for these six siblings.
We ask God to let us experience this joy soon, and ask you to pray specifically for this too. God bless you.
Orazio [Translation by Renée Schalks]