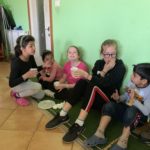 On the last trip in April, Luca, Chiara and Sofia Jones were also guests at our farm. It was important to their parents (Keith and Deborah) for them to have this kind of experience. We decided to ask them to tell us a few things about their short but busy stay there
The following is what Luca and Chiara wrote and then there is Sofia's wonderful drawing.

I am Luca, I am 14 years old and this past April I spent 5 days in Romania. My experience in Romania was very nice. The people were kind and welcoming and I felt at home right away. Obviously we did not only see the pleasant parts but also the poverty and deterioration of some towns and cities that, compared to other countries, could seem unlivable. The Stroi family that hosted us was very kind, welcoming and available. We arrived in Romania at 2 in the morning and then we drove and got to the farm at 3. We slept late the next morning and then we had breakfast. Shortly after, the children that the Stroi family is fostering came home from school. There are 6 brothers and sisters, 2 boys and 4 girls. When they came home we ate lunch. After lunch we went shopping to buy food and paint in order to paint the room that is between the room where we slept and the one where the children slept. The second day we got up, had breakfast and we began to paint the room that we had bought paint for the day before. Around lunchtime, some children came to have an English lesson. We played some games with them and ate lunch. After lunch we gave them some little bracelets and we spoke about the gospel. That evening, Orazio, Emanuele and Ludovica arrived and they helped us on the following days. The third day I was in bed all day because I got a fever/cold playing football with Luigi, Denis and their friend. That evening, however, I felt a little better and we were able to play some cards together. The fourth day we woke up and I was almost completely better. We had breakfast and we left to go to church in Negresti. After that, we drove to go to a church in Padureni that is found on a hill of dust and mud. There we sang songs and all of the adults spoke to the people there by witnessing or sharing some thoughts. After that we went back for lunch and then we all went back home. So I must say that the experience (except for the cold) was very enjoyable.

My name is Chiara, I am 11 years old and the week in Romania was very nice. This is my journal about what happened. The first day at 3 in the morning Nico, the children's father, brought us to the farm and we slept for a long time. Then when we woke up and first we met the mother, Mihaela then little Patri and Ionela then Denis and Lorena came and finally Luigi and Luiza. We played with them with the gifts that we brought for them. The second day we painted a room at the farm. After that, together with Luca and Sofia, my mother and father, I helped teach English to Romanian classmates of Luigi, Lorena and Luiza. With my mother, Sofia and Luiza, we made a chocolate salame. It was a lot of fun. It hurt our hands though because it was hard to crush up all the cookies. The third day with Orazio and our new friends Ludovica and Emanuele who came to help, we had a sort of camp where Crina translated for my mother to teach a Bible story to the little children while Emanuele, my father, Orazio and Mihaela (as the translator) taught one to the older children. Since I was with the small children, I can only say that our group had a lot of fun. I helped paint the children's faces and then we played with them. Sunday was the last day and we went to the Stroi's church. It is smaller than Veritas Church but nice and welcoming. After the church service we went to a small town that was very poor: mud houses, clothing almost like rags, the people were thin, let's say it was not the richest place but there was one lovely thing among all that poverty that brought some riches: the church. The church was small, with many children and few adults. Romanians really like to sing because they sang a lot of songs and this is a nice thing. Afterwards we visited a friend of Mihaela who lived in a mud house with a bathroom out in the open. There were beds all next to each other and they were making polenta on the floor. This way of living that is different to our way made me sad because, compared to these people, we have so much but it seems like we are never happy. When we went back to the farm around 3 in the afternoon, we ate and we played for the last time with the children. Then we sadly said goodbye to the lovely family and went to the airport. I really enjoyed this experience. I would do it again a million times. My favorite part was when we did gymnastics with Denis, Luiza and Ionela or when we played Uno and I kept trading cards with Luigi because he was so good at it or with Patri when we watched videos about candy or slime. What I mean is that I had a great time. But it was also sad to see that compared to many other people, we are considered rich.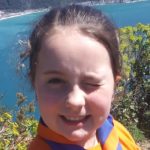 Little Sofia's masterpiece.