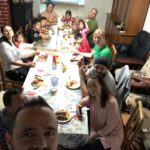 It had been a long eight months since I last joined a trip, and I felt like God was pushing me to go again, to see what he'd been doing through Bethesda in that time, particularly in the lives of the six kids at the farm.
So I booked my annual leave and my flights, and was at Bergamo airport with Giacomo and Orazio a couple of weeks later. Orazio had managed to find hundreds of Bibles in Romanian and had filled a suitcase with as many as possible. However, when we got to the check-in desk it was far too heavy and it was all fun and games to squeeze the extras into our rucksacks. But the extra legroom seats we got given on the plane made up for the hassle and meant we got to Iasi feeling rested.
My second time, and a second snow experience. Winter had started in Rebricea, a couple of weeks before we arrived, so the fields were covered in snow already, and I was happy I'd brought my winter jacket. However, I knew that winter brought with it many challenges for the poorer people living in the villages, particularly when it came to getting around and keeping themselves and their families warm.
But it was warm at the farm when we arrived there, and we got a super warm welcome from the Strois and the kids too. We'd all been praying for them and thinking about them a lot, so it was great to be met with their hugs and smiles. The majority of our short stay at the farm was spent catching up with the kids, and catching up with Mihaela and Nicu about the kids.
There's lots to thank God for, especially when you think that just one year ago they were still living in Pădureni, in the absolute misery that entailed. An amazing turnaround in their situation! And from my point of view, the change in both their appearance and behaviour in the eight months since I met them was incredible. Patri had gone from being a baby in Mihaela's arms to a proper little girl that followed her everywhere, and the rest of the kids were a whole lot more difficult to throw in the air and swing round because of their extra weight!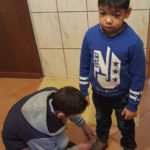 The care they showed for each other, like Luiza brushing Ionela's hair and Luigi tying Denis's shoelaces before school, was lovely to see. As was their behaviour, at the dinner table for example (with spaghetti carbonara being their absolute favourite meal, and Ionela remaining THE SLOWEST eater), and the respect they generally showed to Mihaela and Nicu. It was encouraging to hear that they're catching up at school too, with Lorena in particular a bright spark.
However, challenges remain. Behavioural problems are still an issue, particularly for Luigi and particularly at school, where he's on his last chance. Some of the kids are also still struggling with some subjects at school. For example, although all of them were enthusiastic during my "English lessons" throughout our stay, it was clear when I helped Luigi with his English homework from school just how much he was struggling.
It was also clear from Giacomo and Orazio's "interviews" with the kids that they haven't forgotten their past, and that the bad memories are still close to the surface. We can only pray that God will heal them.
A big part of our stay was evening Bible studies with the kids. It was so encouraging to see them all (well, almost all – Patri was busy distracting the others) together around the dining room table poring over God's word. The focus of Orazio's studies this time was how the truths of the Bible should impact their daily lives. Although they're enthusiastic and know a lot, we're not sure that they've taken the truths to heart, so we're hoping to make these Bible studies more regular by doing them via weekly video call, and obviously praying that God will be at work.
As well as catching up with the kids and the Strois, we also got involved with a couple of the regular Bethesda activities, "Ora Felice" on the Saturday and visit to the church in Pădureni on the Sunday. The highlights of Ora Felice included an incredibly loud rendition of the absolute anthem from the summer camp, "Domnul Ostirii", which I definitely need to learn the actions and lyrics for, as well as a re-enactment of the amazing story of Gideon led by Giacomo, trumpets and all. And of course not forgetting the pizza!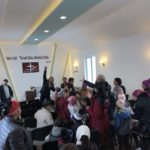 I was mentally more prepared for our visit to the church in Pădureni my second time, and for the poverty and sense of sadness that we'd find there. However, Giacomo and Orazio were able to encourage the many kids and their mums with Bible passages on God's closeness and might, both of which they need so badly. But equally they also encouraged us through their Bible verse reciting and their singing, and their fab smiles when they got given sweets!
We ended the trip by talking with Mihaela and Nicu about the future of Bethesda's work. It was clear that they love the six kids and want the best for them, but that it's been difficult and that they can't see it becoming any easier. It'd be great if you could pray for them, for energy and wisdom in dealing with the kids and all the associated bureaucracy on top, and for us too, that we'd know how best to support them as well as the kids from Ora Felice and the community in Pădureni from here in Italy.
All that's left for me to say is a big "thank you" for your prayers and support of the mission, you're all part of this!
God bless, Renée