Missionary conference "Reflection-in-Action", 18 to 20 January 2019, Bologna
We had the pleasure of being invited to the missionary conference organised by Reflection and held at the premises of the Chiesa Nuova Vita and the Hotel Best Western Tower in the town of Emiliana.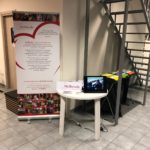 The purpose of the conference was expressed well in the video released a few months earlier by the Reflection team: a clear evangelistic message and call to action, in other words a call to mission. It was a real pleasure to be able to share this same call with the many ministries, associations and Christian missions present at the event. It was also great, and so encouraging, to see so many young people with a heart for the spread of the gospel of hope and salvation to all people. Music was obviously a big part of the event. Several talented musicians from the Christian music scene performed during the times of praise and worship. Then a similar number of national and international pastors clearly and effectively expressed the meaning of the call to serve that every born-again Christian should have during the times of preaching. Bethesda was also there with its staff, strengthened by the presence of Mihaela Stroi and little Patricia, who'd come directly from Romania for the event. Both are testimony of the work that God is doing in that land, not so far from our rich corner of Western Europe. We set up our stand at the Reflection expo, where the conference guests could view the audio-visual materials we've put together, which summarise well the situation of those living in a land so close to Italy but at the same time so far from our levels of comfort and wealth.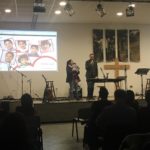 During the mission presentation session, we also showed the new Bethesda video presentation. (I take this opportunity to thank all the volunteers involved in its production: Simona Portigliotti, Marco Robbiani, Andrea Abbatista and Caterina Inglesi.) The film really touched the hearts of those present, who, clearly moved, offered us encouragement and prayers, asked to work with us, and wanted to join us on the trips we regularly go on to Romania-Moldova. We're really encouraged by these two days spent with so many special people, with whom we plan to stay in close contact. Working for the same God and sharing the same struggles makes us even stronger in communion. We can't wait to be involved in initiaves like this again, so that we can share our experiences with others working in the Lord's vineyard and have our spirits refreshed once again. God bless the Reflection staff. New Bethesda video