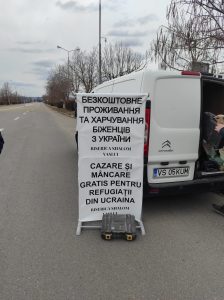 The tragic events that occurred during these past 72 hours have kept us all in apprehension. And while the parties involved have finally gathered today to discuss a possible resolution to this challenging situation, the humanitarian catastrophe continues to escalate. The media have broadly covered the critical issues at the borders and the first victims of the conflict.
On the Romanian-Ukrainian border for instance, a human tide of people (mostly women and children) has been stuck for days in the cold, waiting. In addition to such unimaginable difficulties, these people must deal with the requests (demands) of the Ukrainian border police in order to pass the border controls.
Human insanity and selfishness have no limits (or borders)! The fact that Ukrainian males aged 18-60 are banned from leaving the country because eligible for fighting at front just adds more despair to these unfortunate families. Romania is currently experiencing an incredible situation, but the solidarity machine is ready and moving fast.
The evangelical pastors have organised all possible resources to welcome the refugees at the border and get them transferred somewhere safe and warm, preparing facilities to host as many as possible to avoid having people sleeping outdoors in the freezing cold.
Last night the first group of refugees, mainly deaf people, arrived at the farm – in transit, their final destination being Germany. This morning we had a chance to speak with them (in English) and they expressed immense gratitude for the hospitality and warm welcome. Our intention would be to host around ten people at a time, while better organising our premises, making our spaces more comfortable and suitable for families who'll need a refuge for longer periods of time.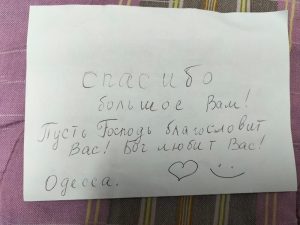 Friday night (March 4) a small Bethesda delegation (Orazio and Emanuele) will be flying towards Romania to contribute, directly on site, to immediate needs and to evaluate upcoming requirements. Hopefully no flights will be cancelled that day – God forbid. Meanwhile we would like to thank all the people who have generously replied to our call, brothers in faith, friends, colleagues, relatives. Thank you for your heartfelt prayers, for the love and affection that you have demonstrated in these difficult times.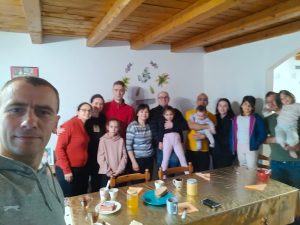 We are well aware that it's only a first step and that there will be much more to do. Even if the war should end today, the consequences will carry on for years. May God give us the strengths and the will to never surrender, to follow what Jesus has always taught us: LOVE YOUR NEIGHBOR with no ifs and buts.
But whoever has worldly goods and sees his brother [or sister] in need, and closes his heart against him, how does the love of God remain in him?
1 John 3:17
DONATIONS
Wire transfer: Bethesda Onlus – Ama il tuo prossimo
IBAN*: IT44K0200801636000103772416
SWIFT: UNCRITM1OU3
Cause: Ucraina