This is a faithful saying, and worthy of all acceptation, that Christ Jesus came into the world to save sinners; of whom I am chief.
1 Timothy 1:15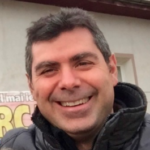 God's mercy is immense, and free. God sent his son into this world of sin to save sinners. We're all sinners, nobody excepted, but we've been made right with God just like Paul by the grace of God that overflows in faith and love.
This is the real Christmas, this is the gospel.
I want to end this year and start the new one by thanking God for his forbearance. God is good!
Many of you will know how Bethesda is operating in Romania, how God is using hopeless servants like us to bring the gospel and a tiny bit of material relief to some men, women and children in conditions of extreme poverty, and it's time to say THANK YOU!
I want to thank God for all those who have supported us, for all those who have travelled with us, for all those who have prayed for us. God bless you greatly brothers and sisters!
I want to thank all the members of Bethesda who are so committed to the mission, dedicating their time, their money, their other gifts, and their holidays so that the mission can go on. We ask for prayer and support, because it's easy to get discouraged. For some of us, life is changing: I (Luca) have moved to Barcelona, Orazio and Federica are expecting another baby, Giacomo has changed jobs, Claudio is increasingly busy and for all of us, without exception, there are different trials and the inevitable attacks of the enemy.
A special thanks to Orazio and Giacomo for their tireless work for the cause. God bless you brothers, you're a massive encouragement! I also want to thank the churches that help and support us. Without your generosity, your welcome, the beautiful moments spent together, the prayers and continuous encouragement, everything would be much more difficult if not impossible.
I particularly want to thank the main protagonists of all the work, Nicu, Mihaela, Crina and Cristina, the Stroi family that takes care of the farm and the kids and all the evangelical activities that take place at the farm. God bless you!
I want to thank the kids who come on the summer camps and to Ora Felice… God bless you!
Finally I want to thank the kids that God brought to us at the farm, Luigi, Luiza, Lorena, Denis, Ionela and Patricia. It's wonderful to see your interest in the Bible and the gospel, your commitment to learning verses and to school. You've changed a lot in a year, God is at work in mighty ways in your lives. May he protect and bless you.
A hug in Christ to all.
The president
Luca Macchiaiolo