It is Friday 20
th
September and Ludovica and I (Fabiola) are at the airport. David left a few days before us, while Emanuele and Giacomo are travelling by car.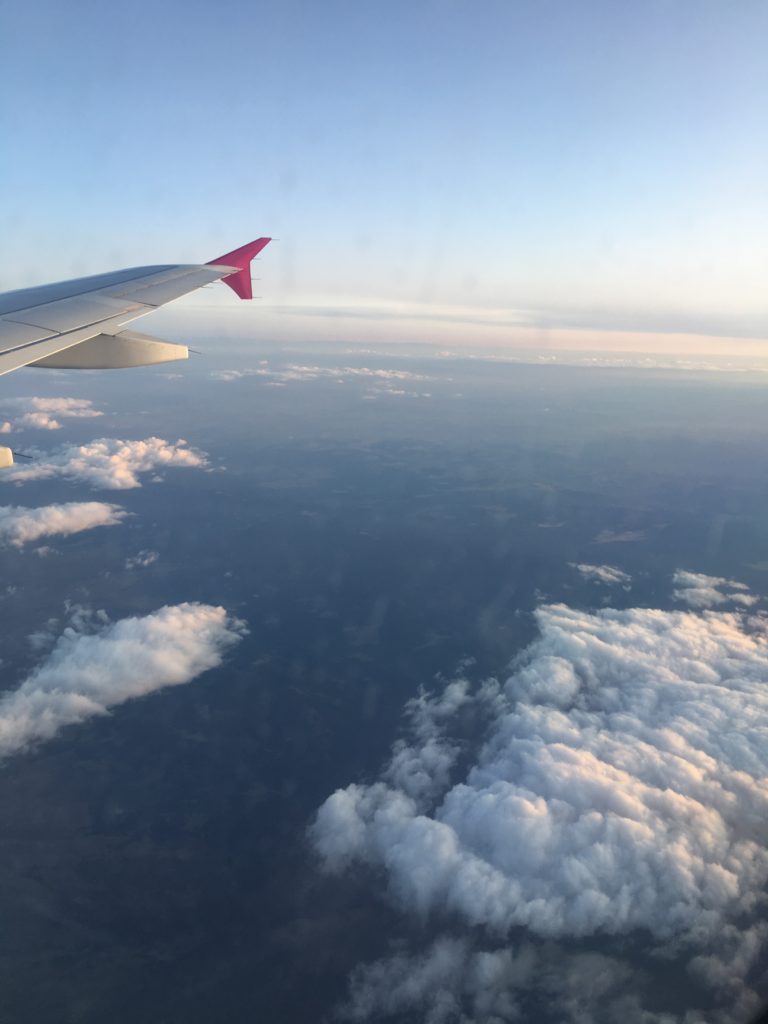 It is my first time to Romania and I am a bit worried because I do not know what to expect. While we are waiting for our flight, Ludovica and I go over the program for the next few days and she tries to reassure me about the fact that it will definitely be a great experience.
Finally, we board the flight that is right on time and we land in Iasi at 19:30. David, Emanuele and Giacomo come to get us after they have been to Metro to buy the things necessary for care packages of food that we will distribute Sunday morning.
The trip from Iasi to Rebricea, where the farm is, takes about 40 minutes. I am very ready to meet the Stroi family and the children. I have heard so much about them in the months before we came that I almost feel like I already know them. As we get further away from the city, I notice that the outskirts are almost completely dark. There are very few streetlights and I can look at the sky and enjoy the astonishing show of lights. In Milan I have never seen anything like it! The villages that we are passing are all connected to one main street. At a certain point we turn right and I can see a house in the distance. I recognise it as the one I have always seen in pictures. We have finally arrived!
We go into the house and we are literally submerged in children! They already know my travelling companions but not me. Despite this, they take turns hugging me with so much affection that it moves me. We also greet Mihaela and Nicu who are obviously happy to see us. Dinner is almost ready but while we wait to eat, we entertain ourselves chatting and playing with the six children. They understand Italian rather well so it is not difficult to communicate with them. I begin to get to know them and learn their ages and names and I notice that they are constantly trying to be in contact with us. I can see gratitude in their eyes and a deep need for affection that I and the others are happy to give them.
We eat dinner and it has gotten late. The little ones are tired and I must say that we are too. We decide to spend some time praying, thanking God for the opportunity to be there and shortly after, we go to bed.
The following day is Saturday and we wake up at a decent time. It is 7 degrees out but it is a sunny day. Before breakfast I decide to have a walk around the farm. There is a dog named Lina, some cats, a hen house and various fruit trees. Nicu also raises bees whose honey he collects both to sell and for his family.
Right after breakfast we begin to prepare the place where we will welcome the children from town and tell the story of Jericho, reenacting the collapse of the city wall. Now that it is time to get the children from Rebricea, I climb into the van with Nicu and we go to the meeting point. As we get further away from the farm the landscape becomes more and more rural. On the road we come across horse-drawn carts, geese that are crossing the street, cows everywhere and I see that there are many small children walking around on their own. It feels a little like we have gone back in time. We turn down a dirt road and a little further on in an open space in the grass I see all of the children who are waiting for us. There are about 20 of them and we have to take two trips. Once we have brought everyone to the farm, we can start with the activities. We begin by singing together and praying.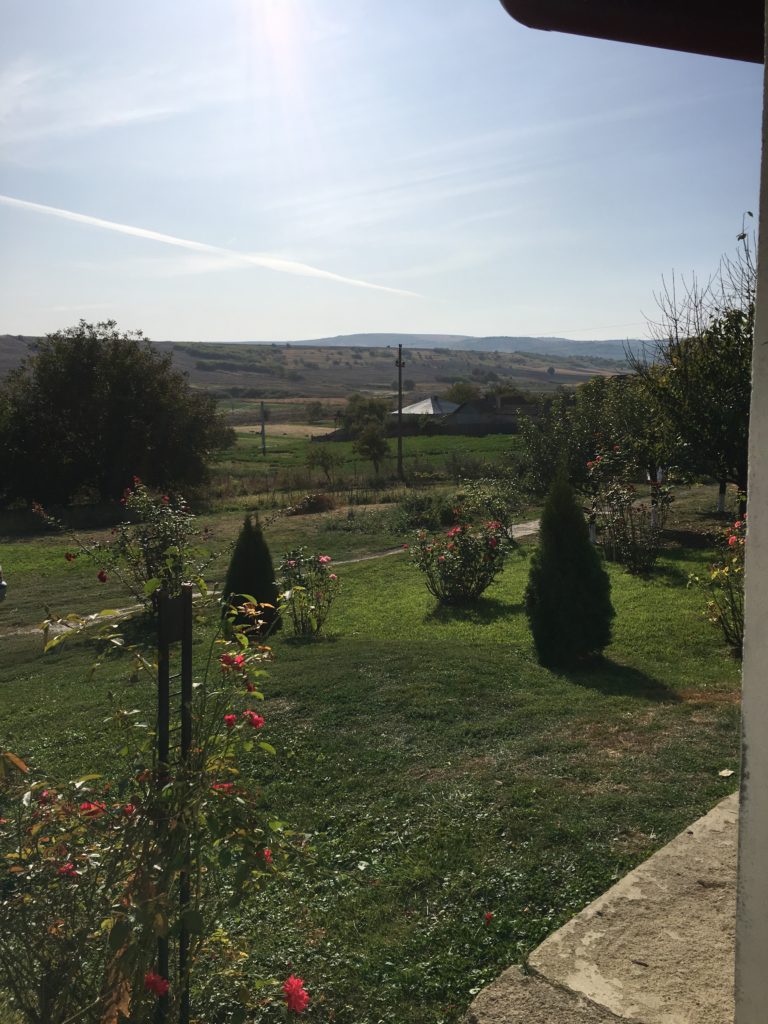 After that, we tell them a story from the Bible, trying to communicate a simple but clear message. To do this, we stage the taking of the city together with the children, marching around the wall built with cardboard and yelling until it collapses. The children had fun! After that 'playing', Emanuele taught them a deeper message to reflect on the need to make a choice for God, telling the story of the paralytic whose sins Jesus forgave. Let's pray that the seed we planted will bring forth fruit.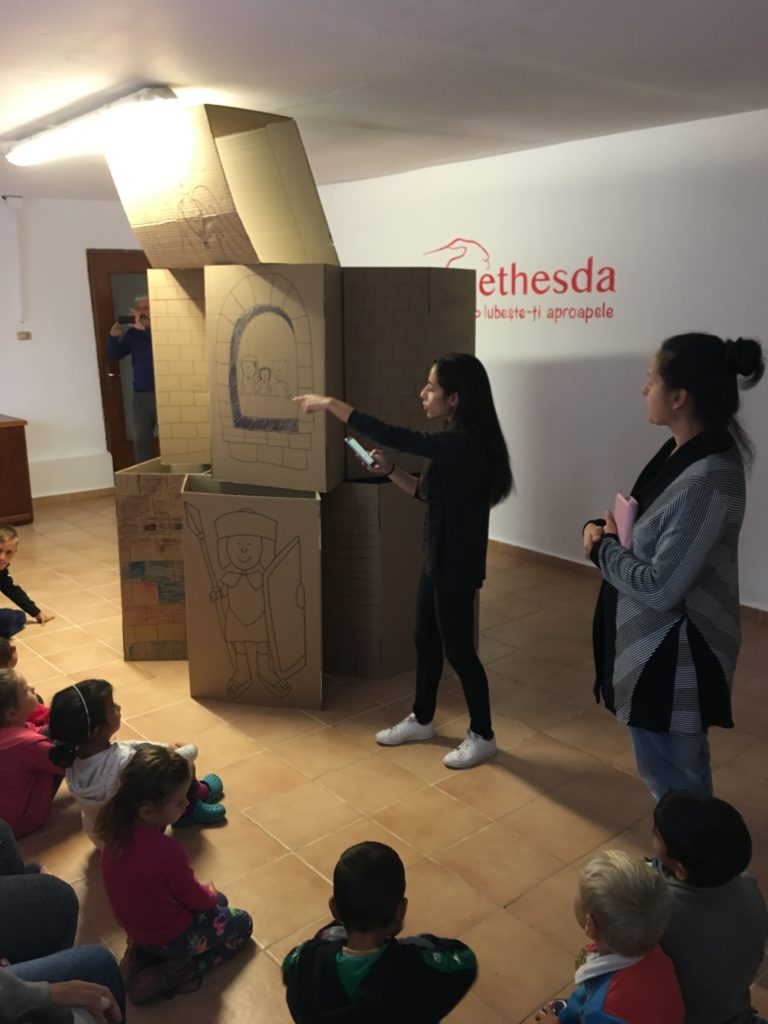 It is time for lunch and thanks to David, Giacomo, Mihaela and Nicu we can eat pizza and the children cannot wait! One, two, three, maybe four trays for everyone. I see many of the kids put their pizza in napkins to take home for dinner. It is touching and I would like to be able to give them something more.
After lunch we must do a scene from what we listened to in the morning so we recruit all of the actors: Jesus, the paralytic, the friends and at the call of 'action' everyone is in place to act. Incredibly, they remember everything and we are so happy about it. Unfortunately, the time with the children from Rebricea is over and we take them back to their homes.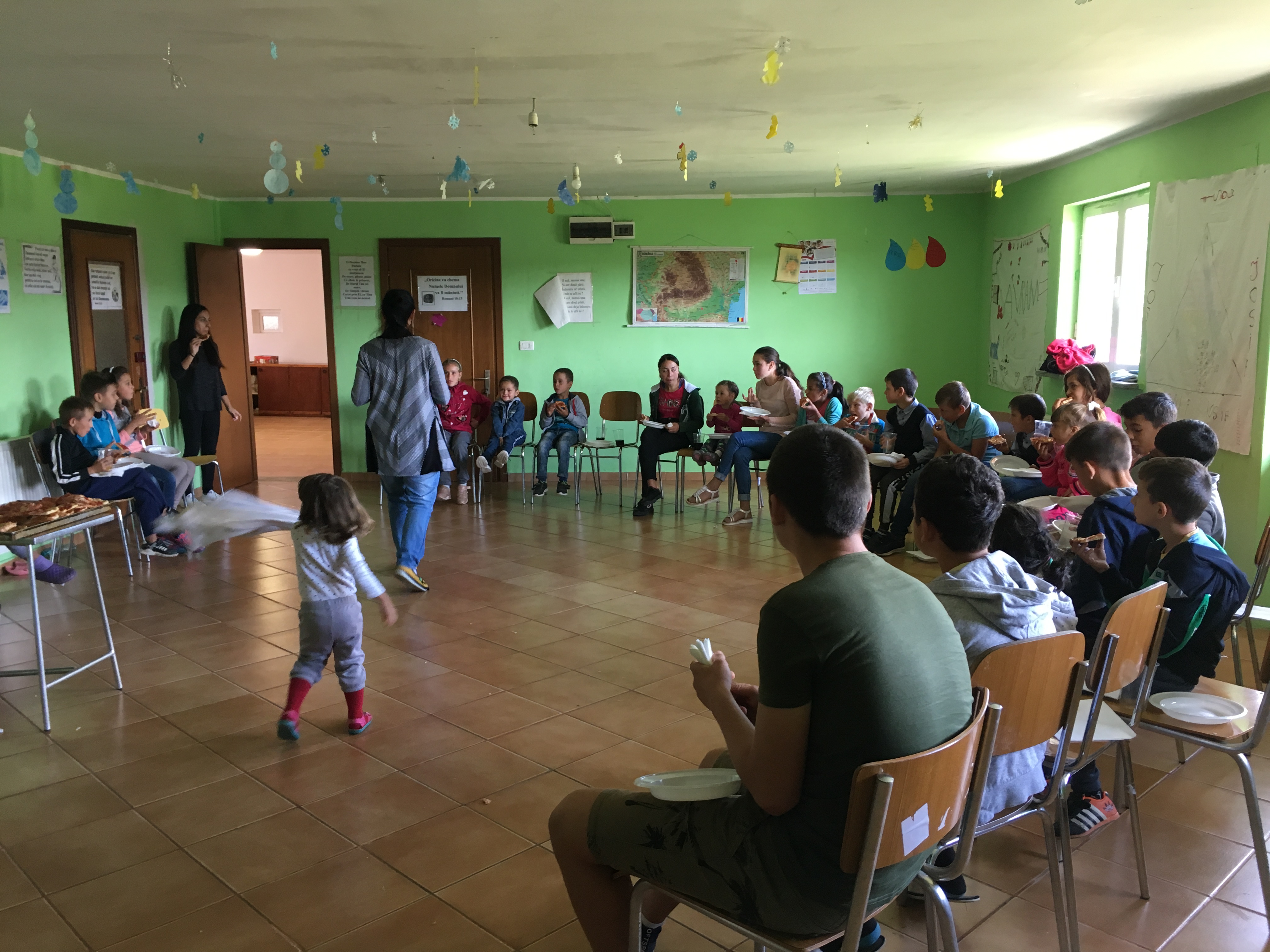 The afternoon at the farm is not over and we prepare the care packages of food to distribute the next day in the town of Paureni and we spend some time with the six children. Being with them is a joy for me and I am very happy to be able to spend time with them. Soon evening arrives and for dinner we are expecting Vasile, the pastor of the church in Negresti, with his wife and Christi. Nicu has lit the grill and besides ribs, chicken and sausage, tonight I am trying mici, a kind of spicy sausage that is typical in Romania. Good but a little heavy! To finish off the evening well, Mihaela baked a cake to celebrate Emanuele's birthday.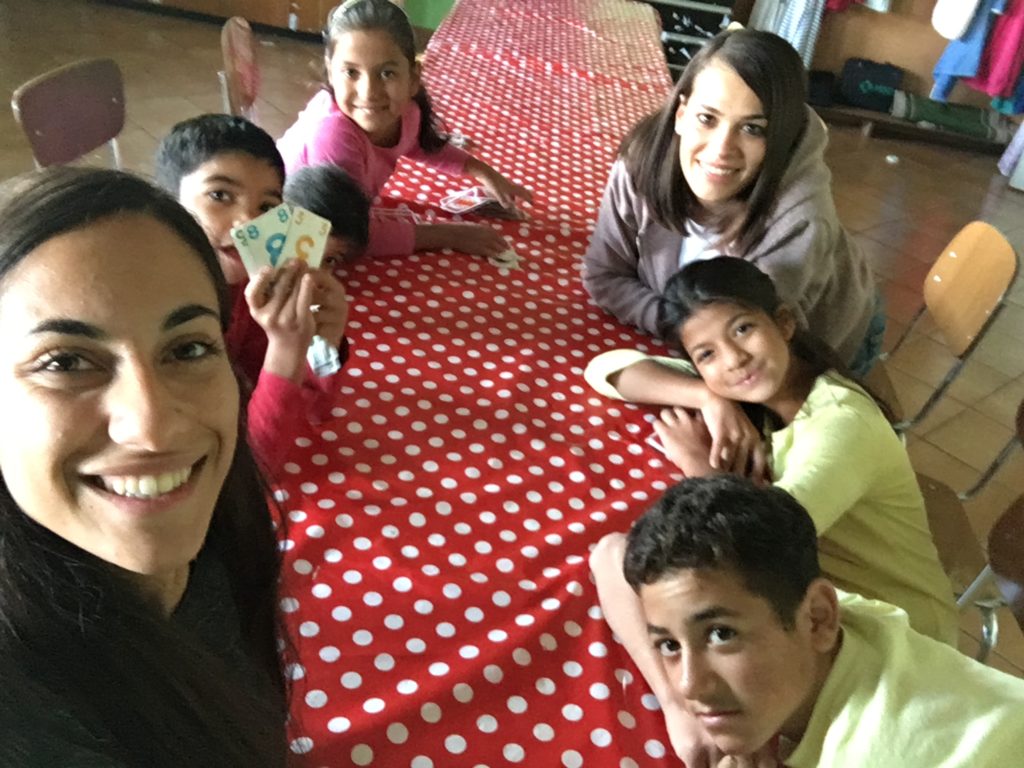 We say goodbye to our guests and, before going to bed, we spend some more time with the Stroi family. Tonight, Ludovica shares a short reflection on identity, who we are and how God made us and she gives us a task: to write on a piece of paper something about ourselves that we like and something we don't and we will ask God to intervene for us in that area. A good reflection both for the children and adults. It got late and everyone goes to bed.
Sunday we decide to get up a little later because, due to something unexpected, we cannot go to both Negresti and Padureni but to Padureni only. The church service begins at 11:30 so we have time to load the van with the care packages of food, go to pick up a sister from church, and Christi and then go to buy candies that we want to distribute at the end of the service.
The trip to get to Padureni is not easy. The road to get there is paved to a certain point but then the only way to reach the village is to take a dirt road that is not at all convenient. As we get closer to our destination I am more and more quiet. I see things that I have never seen before: houses scattered about that are so shabby that they seem abandoned, piles of rocks in the middle of the street, potholes, many children walking around by themselves, dirty…that look at us. Some of these children are going to the church on foot and they wave because they know us. We get to the meeting place in Padureni and it does not take much time to fill up. They are mostly children, some mothers and no men. Before the service begins, we are able to talk to some and we are shocked listening to some of their stories. It is wonderful to praise God with them. I know some of the songs and I try to read this language that is unknown to me in the hymn book in order to join my Romanian brothers and sisters. After that is a succession of children reciting Bible verses from memory, singing and praying. It is encouraging and exciting to listen to them!
Then David gets the Bible and gives us a message from God for everyone. Next it is my turn and I try to tell how I found God and, through a small experiment, I explain simply what Jesus did for man. I pray that some of the people there remember what they heard. The service is over and together with David, we hand out the candies to all who are there. Before leaving we deliver the care packages of food that we prepared and we also give them Bibles. We ask Maria, who lives next door to the church, to show us her home. It is a one-bedroom apartment with a bed, a sort of kitchen, a stove and on the walls and floor there are rugs that serve to keep out the cold that is coming and that is it. It surprised me how clean and in order it is. Although it is a humble home, it is cared for and it made me think of us who have a lot, too much and we are not always interested in the things we possess.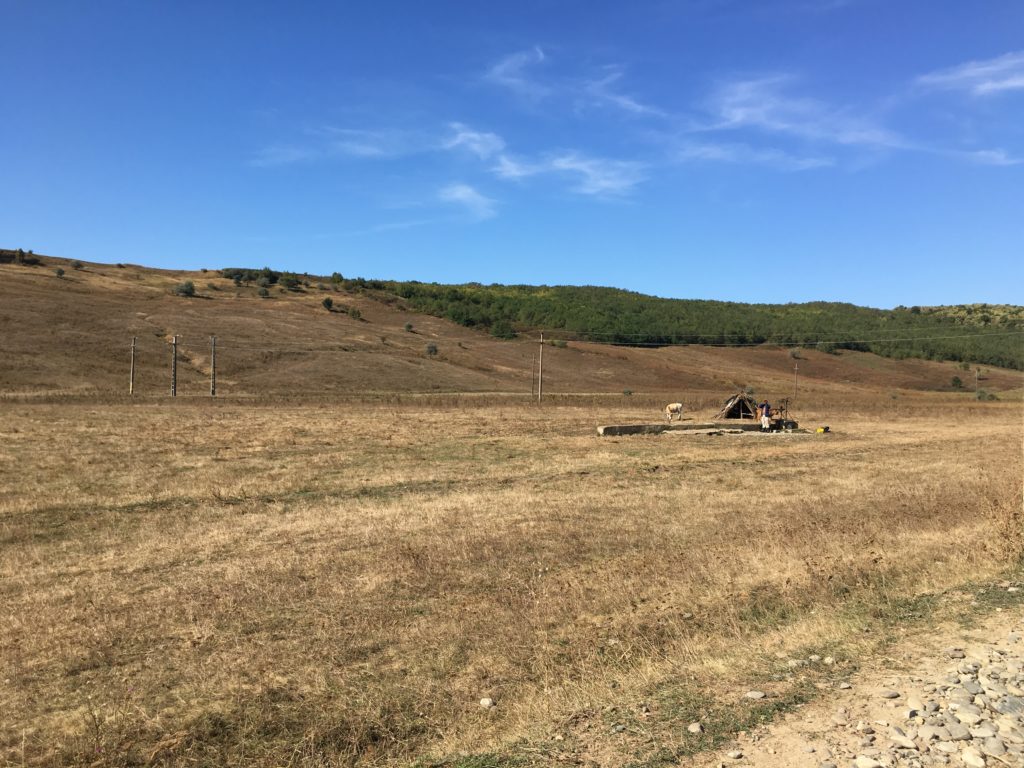 The way back to the farm is even quieter that going. I keep thinking about all that I witnessed and it just makes me want to cry because I feel powerless before it all.
We get back to Rebricea a little late. We eat and right after we spend some more time together. Giacomo shares a word of encouragement for everyone to remember the responsibility we have to be an example to others.
The time to say goodbye has come. We take a picture of everyone to remember, I hug the children, Mihaela and Nicu and off we go to the airport. It was the worst flight I have ever had: I cried for two and a half hours! Sadness, anger, joy, understanding, a mix of emotions and different feelings. Accepting the idea that this reality exists for some but a desire to get involved and do something to change the destiny of these people. I thank God that he put it on my heart to be a part of this ministry and I thank all those who have been working in this place for years.
So, when are we going back?