Some new guests in Romania: Beria and Ela
I decided to go to Romania to see with my own eyes what my husband Emanuele always told me about every time he returned… he always showed such joy and love for the abandoned kids from Rebricea. So I decided to go too, and arrange to leave my daughter in the loving care of her grandmother. Leaving wasn't easy, because of the fact that I had to leave my little girl, even if it was only for two days. But the long-awaited departure arrived, and I left with Emanuele, Giacomo, Fabiola, Ela and David.
The first person I met after we landed in Romania was Nicu, who came to pick us up with the now-legendary 9-seater van and take us to the farm… what to say… brilliant his smile and hugs that welcomed us at the airport exit, even though it was the middle of the night…
After resting up in a warm and comfortable bed, the following morning I met the rest of the Stroi family: Mihaela who'd prepared a delicious breakfast for us, and the kids: Luigi, Denis, Luisa, Lorena, Ionela and little Patri… very sweet kids eager to give and receive a lot of affection!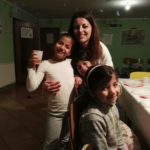 For our first day at the farm, a gathering had been organised for the kids from the neighbouring village. Nicu went to pick them up, and I decided to join him to understand the reality of the place I found myself in. I remember seeing the kids from a distance eagerly waiting for the arrival of Nicu's van, which would take them to a safe and carefree place full of love where they would listen to Bible stories, sing, play and eat delicious pizza. The next day was very busy. We all went to an evangelical church in a very poor and remote village in the middle of hills and mud, where most of the chairs were taken by children with a serious look on their faces, children eager to listen, children in search of rest, children looking for a smile, children with muddy shoes and hands destroyed by the cold, children living in poverty and abandonment like we can't even imagine, children that I'll carry in my heart…
What's this trip left me with? A special love for the kids at the farm, who won me over with their infinite sweetness and way of being; a fondness for Nicu and Mihaela, who've decided to share their lives with and look after these kids; the desire to return to Romania for more beautiful experiences like this one; and what to say about my travel companions? They made the trip fun and carefree, even if it came with a few tears… tears for having seen realities unimaginable just a few steps from our Italy, and tears of sadness for having left a little piece of my heart in Rebricea.
Beria Clemente