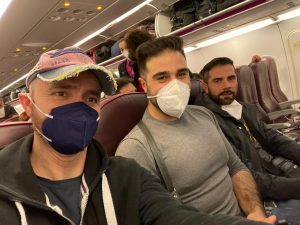 After two years of pandemic and the current Ukraine situation, we find ourselves once again exposed to emotions of uncertainty and despair.
As previously reported in this newsletter,
Bethesda is strongly involved in assisting the Ukrainian refugees in transit through Romania.
Just a few weeks ago, when this whole tragedy began, we were witnessing the most "fortunate" families crossing the
Albita border
with their loaded cars. Now we are seeing people struggle across the border by foot or by any feasible means. The Romanian government is trying to regulate and coordinate such flow, but the whole situation remains difficult, particularly in terms of bureaucracy.
We are constantly in contact with associations, churches and even families who are willing to offer immediate shelters but are opposed by bureaucratic complications. Thanks to the collaboration of some Ukrainian refugees hosted by the Romanian Evangelical Church, we were able to create a network aimed at delivering goods (mainly food, medicines and clothes) directly to Ukraine. Though timely deliveries are not guaranteed, and the risks are always high. But we're not giving up. The support received so far has been amazing: people have contributed with goods which will be gradually delivered through direct and trusted channels; associations, churches and companies, including international entities, have supplied us with resources able to cover most of our needs. We are most grateful and touched by such generosity.
Meanwhile, the works to enlarge the spaces at the farm have started: we are building bedrooms, adding restrooms, preparing appropriate areas to welcome at least 2-3 families for a medium-long term stay.
The plumber company "Ditta Termoidraulica di Gentile Michele" joined us at the farm together with Dario Gentile: they worked hard for several days with the tireless support of the landlord of the farm, Nicu Stroi, who was assisted by Abel Corogenau and Denis Zlatan, two brothers in faith that are kindly helping us out. Special thanks also to Andrea Bottaccini and his Ancora della Salvezza (no profit association based in Rome that operates in Romania's neighbouring areas) who provided us with all the essential materials and further aids, enabling the works to proceed smoothly.
Our participation to the YOUTUBE TV program "focal point" aired on Ekklesia TV Italia on the 24th of March was a good opportunity to describe the activities currently handled by Bethesda, its goals and objectives, its future projects that obviously involve Ukraine as well. What we would like to reiterate is that this is just the beginning. The facts speak for themselves, this situation will not be solved in the short-term, so it's important that we keep up the good work.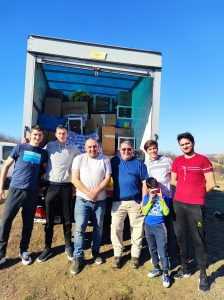 We'll keep praying for the end of these miserable times, while grateful for what we have, always bearing in mind that our neighbour is awaiting to be aided, with no distinctions: a Romanian child in a difficult situation, or a refugee escaping a war, or an elderly person in need. We are Christians and therefore we should never forget the two fundamental and essential Commandments: Love God and Love your neighbour. May the Lord bless us all the days of our lives.
DONATIONS
Bank transfer to
Bethesda Onlus – Ama il tuo prossimo
IBAN*: IT44K0200801636000103772416
BIC/SWIFT: UNCRITM1OU3
Cause: Ucraina + Email di contatto senza "@"